Redevelopment of a former university campus
The University of Cumbria's 2020-2030 masterplan aims to revitalise its campus to the south-east of Lancaster city centre.
The plans will raise revenue through the disposal and redevelopment of surplus land, improve student accommodation and facilities to meet market expectations and consolidate the existing campus to reduce overall maintenance costs and energy use.
Urban Green was approached by DAY Architectural to deliver landscape architecture, landscape planning, arboriculture and ecology services to deliver an extra care village on the former student campus site. Listed buildings, Barbon and Hornby will be converted and six buildings including the modern extension to the Art Studio will be demolished to make way for the new build Extra Care Village. In addition, the demolition of the existing tower block and ancillary buildings, will be replaced by a new 215-unit student residential tower along with associated external spaces.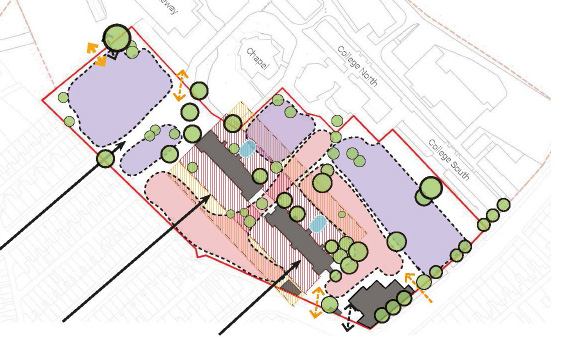 Landscape proposals
The landscape architecture team provided planning drawings for RIBA stages 2-3 and technical landscape drawings for RIBA stage 3-4, designing a new car park, entrance courtyard and private gardens to the facilities.
A Townscape and Visual Appraisal was produced to assess the demolition of existing tower block, associated ancillary buildings and the massing of the proposed residential tower in the context of the visible receptors to the southeast of Lancaster centre, owing to the rising topography and careful consideration to the numerous locally listed buildings on the edge of the local designation and key Urban Landscape area.
The arboriculture team carried out an Arboricultural Impact Assessment (AIA) across the entire university campus. The development resulted in the removal of several low quality trees. This will be mitigated by replacement tree planting within the soft landscaping scheme.
The ecology team carried out an Preliminary Ecological Appraisal (PEA) of the site, which found the site wouldn't pose an negative impact on the neighbouring designated site. (Lancaster Moor Hospital Grassland BHS) . As well as No UK or local priority habitats on the site, only common and widespread habitats with minimal ecological loss. Bats, Nesting Birds and Hedgehogs were found to be presence on the sites. This would require the appropriate mitigation measures.