Manchester Civic Quarter Heat Network
Client Vital Energi
Location Manchester
Services Landscape Planning
Sector Infrastructure
Generating a low-carbon heat and power solution for the city's most iconic buildings
The Manchester Civic Quarter Heat Network (MCQHN) will generate low-carbon heat and power for the city, helping Manchester to reach its ambition to be carbon-neutral by 2038.
The £20m scheme is part-funded by a £2.87m grant from the government's heat network investment project (HNIP) and will save more than 3,100 tonnes of carbon emissions in its first five years of operation. Heat will be generated from an energy centre, built adjacent to Manchester Central Convention Centre.  Its five flues will be incorporated into a 40-metre high 'Tower of Light'. The sculpture, designed by award-winning architects Tonkin Liu takes inspiration from nature, celebrates Manchester's low-carbon ambition, whilst respecting the historic assets of the city's Civic Quarter.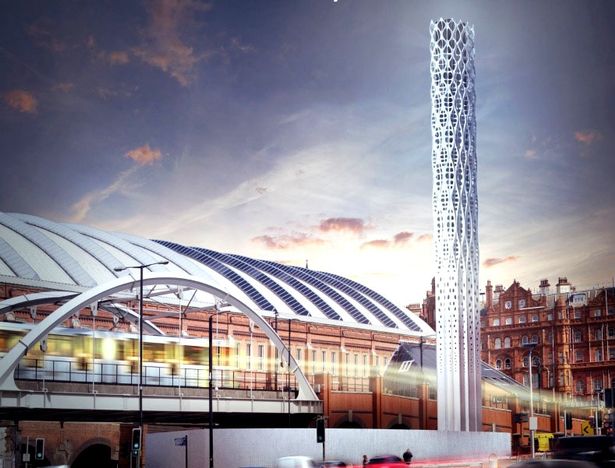 The 40-metre high 'Tower of Light' is designed by award-winning architects Tonkin Liu and houses the energy centre's five flues
The network will generate a highly efficient, environmentally friendly heat and power solution, initially serving six of the city's most iconic buildings; Manchester Town Hall, Manchester Town Hall Extension, Manchester Central Library, Manchester Central Convention Centre, Bridgewater Hall and Heron House.
A townscape and visual impact assessment (TVIA) was produced as an ES chapter to supplement the EIA (environmental impact assessment) and support the detailed planning application.  The predicted townscape and visual effects of the proposed development were assessed, with the Tower of Light being the main focus of the assessment. Fifteen verified views were produced for all assessment viewpoints to demonstrate the likely effects of the proposals. Mitigation measures were identified to prevent, reduce and offset any adverse effects of the development.
Planning was approved by Manchester City Council in January 2018. Construction began July 2019 and is expected to complete late 2020.