Aspirational External Spaces Created for The Birches Specialist Support Primary School
Creative landscape feasibility proposals have been developed to revitalise the outdoor spaces of The Birches Specialist Support Primary School located in West Didsbury. The aim, to provide an exciting environment which is safe, practical and stimulating for the children and staff.
The imaginative proposals created by Urban Green deliver three key outdoor spaces; The Meerkats; Forest Schools and the Courtyard Refuge. Each supports the specialist and high-level needs of the children.
The Meerkats provides a vibrant, energetic atmosphere with two very distinct play spaces; one playful, the other of a more calming nature whilst allowing the children to feel secure and free within the space. The design features a natural play area with timber climbing equipment; gentle rolling mounds; ornamental grass; high level sensory planting, seating and a brightly coloured Perspex roof allowing light and colour to fill the space.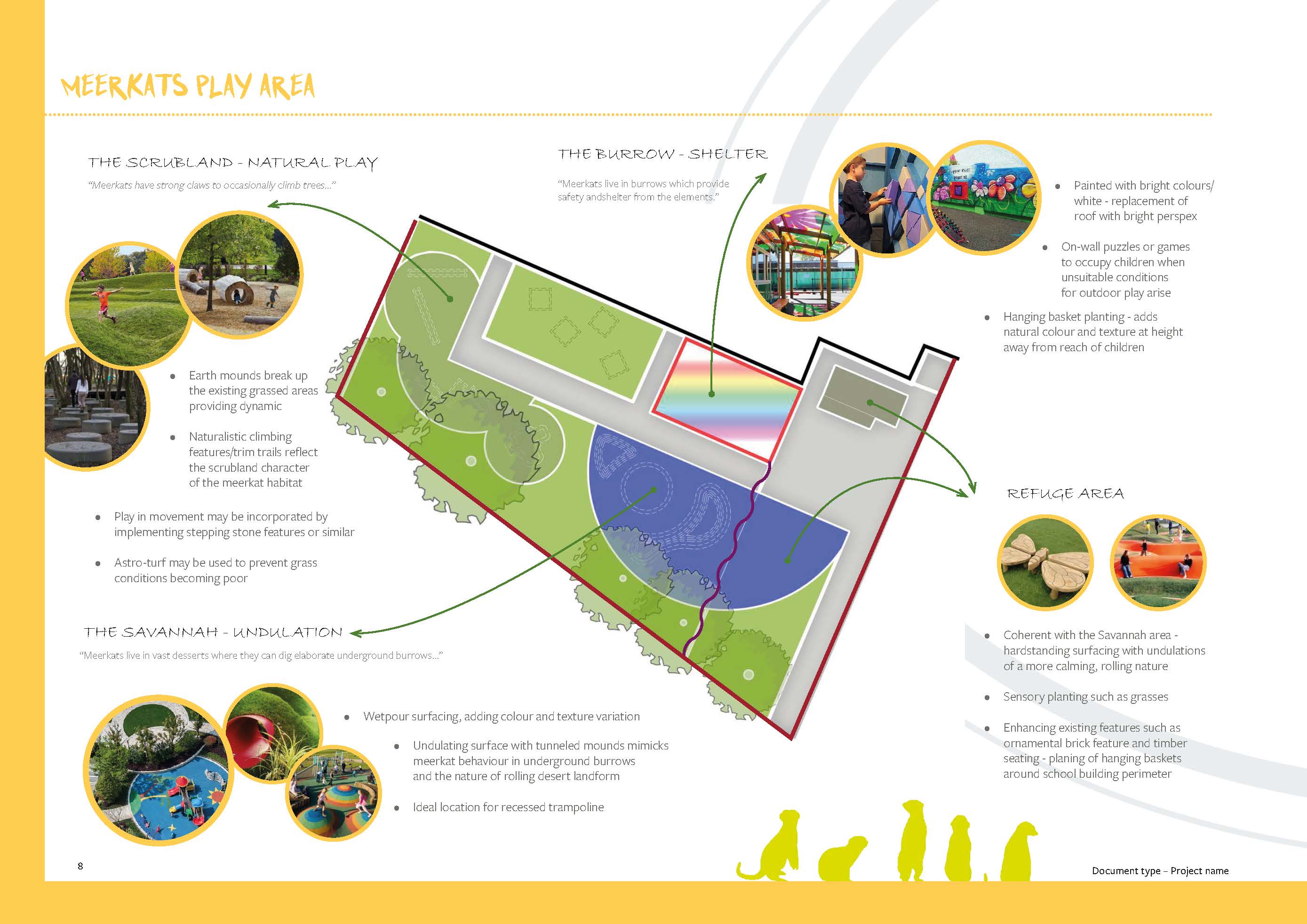 The Meerkats design principles
Forest Schools will see improvements to the existing space including enhanced wheelchair access; introduction of self-binding gravel; aesthetic repairs to the existing shed and woodchip surfacing to create new footpaths and clearings for play equipment.
The Courtyard Refuge lies at the centre of the school with the design focussing on improvements with the removal of existing trees to provide greater sunlight; tree trunks sculpted into totem pole features; an existing stone features re-used as a planter, water feature or seating; integration of a small decked area; and the integration of shrubs and climbing plants around the border and walls to soften the dominating brick work of the building.
The school is adopting a staged approach to delivery, with plans to implement The Meerkats during the summer break with the invaluable support of volunteers. Each of the three designs was divided into three categories; existing elements, new infrastructure and new features/equipment to allow the school to prioritise the implementation of the design in line with their available budget.
The opportunity to work with the school came following our long-term relationship with The PJ Livesey Group, who are working with the school to raise thousands of pounds to fund the construction of the outdoor spaces.
Rob O'Hara, Headteacher of The Birches Specialist Support Primary School said:
"I am genuinely incredibly grateful of Urban Green's support. It only strengthens my desire to give our children the very best environment they deserve and we couldn't begin to attempt this without your very generous support. A very big thank you, and we are really looking forward to seeing how we can make this happen. "
Matt Taylor, associate director of Urban Green said:
"In support of our ongoing to commitment to social value, Urban Green welcomed the opportunity to volunteer time and expertise to help Rob O'Hara deliver his aspirations for The Birches Specialist Support Primary School. We truly hope our considered approach has helped the school to plan and deliver improvements to fulfil its ambitions to improve its external educational environment."