Managing Director Martin King reflects on the landscape degree show at Manchester School of Architecture, The Manchester Metropolitan University judging for the Landscape Institute NW branch and looking at the position and future of landscape architecture and the #ChooseLandscape campaign
I had the pleasure in judging the Manchester School of Architecture Master of Landscape Architecture (MLA) degree shows last night at MMU as part of a panel on behalf of the Landscape Institute North West (LINW). We awarded the best overall student exhibition for both years, with the worthy winners of Mohammed Saad Sat for MLA1 and Ben Wayles for MLA2.
It's a good exhibition with lots of creative thinking, strong and sustainable design ethos and principles running through, with a range of graphic techniques and model making utilised. Great to see the next generation of enthusiastic Landscape Architects about to enter the profession. The Manchester course is re-establishing and reinventing itself after a difficult period, it doesn't have a huge cohort and students come from a range of backgrounds and countries. It made me wonder about the state of the nation for Landscape Architecture – is the profession going in the right direction? Does it get the credit it deserves? Is it attracting the right level of new talent as an attractive career? Does it have a powerful enough voice and influence at the right levels?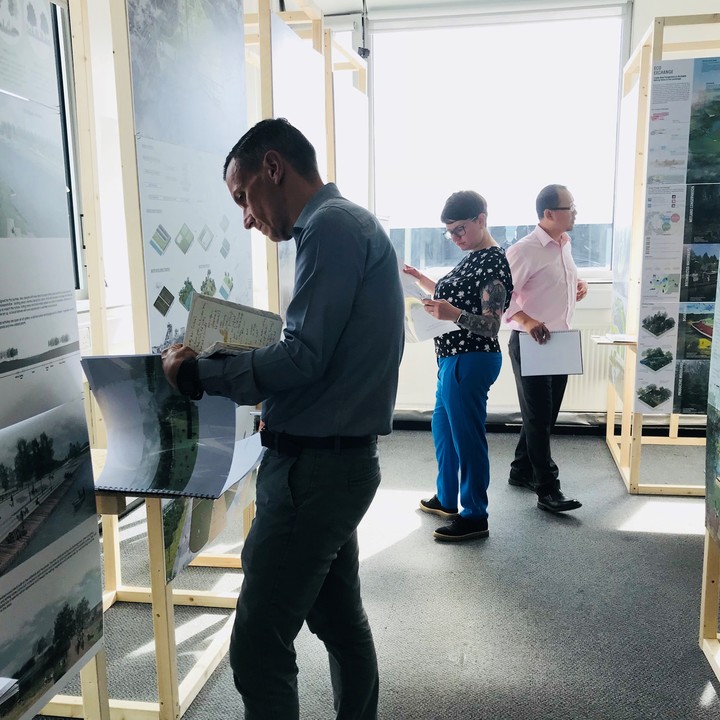 Managing Director Martin King judging the Manchester School of Architecture Master of Landscape Architecture (MLA) degree shows
Guest speaker was Tom Lonsdale who positively addressed all the above questions. An articulate, knowledgeable and experienced Landscape Architect who's talk addressing the students was an all-encompassing 'What is Landscape' highlighting the importance of 'Place' and the significant role the profession has to play. He has spent a career positively challenging and influencing at the right levels, promoting and chairing design reviews and he wants to end his career removing and debunking the words 'landscaping' and 'green bits'from the development and planning vocabulary – I can't agree enough!
I questioned why I chose the profession, (albeit I somewhat fell into it) it was probably to have a positive impact, to design and build spaces and schemes that would make a difference and people would use and enjoy. There's certainly the aspect of 'I did that!' about your proudest schemes that will always continue to attract and inspire me. I have always had strong opinions about the profession, education and the future but have realised I haven't been that proactive in seeking to positively influence and help make things happen, the judging for the LINW was the start of me 'doing my bit'!
If ever there was a time on this planet that Landscape Architects need to ensure their influence is felt it's now. From climate change and plastics, to sustainability and natural capital, the need to understand the environment, its challenges and the complex contexts we work in is essential in creating interventions, places and spaces that are appropriate, durable and lasting. I have no doubt Landscape Architects are best place to lead on such matters, but is that recognised and does the profession attract the right level of new talent for that to continue?
The Landscape Institute is embarking on a new campaign in July this year to seek to address these issues and future-proof the profession, branded #ChooseLandscape with 3 main ambitions:
Raise awareness of landscape as a profession
Improve and increase access to landscape education
Inspire young people to choose landscape as a career
It's important that it makes a mark and time will tell what the level of success is in meeting those ambitions. The likes of Alison Watson at Class of Your Own has made it her mission to get Design and BIM into secondary and higher education and is making great in-roads with her accredited Design Engineer Construct (DEC) qualifications, capturing the learner's imagination and enthusiasm from the age of 11. I can't endorse enough the need to engage children as early as possible, the results are fantastic.
So the time is now, Landscape Architecture is an attractive career in the UK and globally, it should and does have the understanding and influence to shape the future of our planet at all levels ….So choose life … #ChooseLandscape!