Managing Director Martin King considers the future of our high streets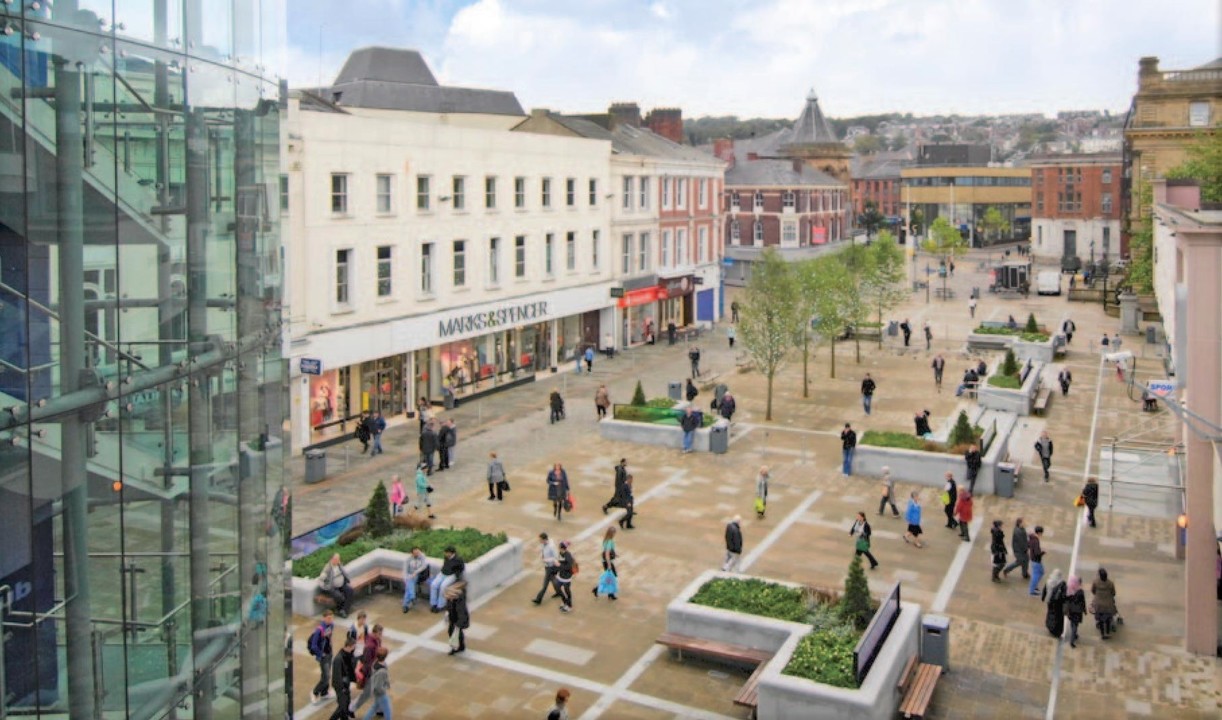 King William Street, Blackburn Town Centre. Credit - Blackburn with Darwen Borough Council
I had the pleasure of being asked to speak last week on behalf of the Landscape Institute at the Future High Street event held at Manchester Metropolitan University arranged by the Institute of Place Management. It was organised around the Governments launch of the £675 million Future High Streets Fund, which seeks to support local areas in their plans to make their high streets and town centres fit for the future.
It was a really insightful and successful event with a variety of speakers led by Sir John Timpson and with over 170 attendees.
UK retail has experienced dramatic changes over recent years, with the decline of brands from the likes of House of Fraser to Patisserie Valerie, the fund is aimed to help increase prosperity when retail is in decline. It will be used to transform the high streets, improve transport and infrastructure, restore properties and reinvent historic buildings to bring them back into use. Local Authorities are now being urged to bid for a slice of £675 million, with an average of £25 million available per high street. Attendees where predominantly representatives from Local Authorities keen to find out how best to approach their proposals and submissions.
Place
My presentation focussed on how public realm can enable transformative change. I briefly asked what makes a 'Place' and how it is this understanding that leads to 'Placeshaping' – a term I prefer to 'Placemaking' as the set of ingredients or pieces of the jigsaw usually already exist – buildings, streets, heritage, culture, art, transport, communities etc. It's how you understand, engage and consult on these elements that then 'shape' the solutions.
I gave examples of when public realm is well considered and when not, referring to all the guidance and best practice from the UK and around the world to demonstrate, with considerations from healthy streets through to natural capital.
I had the opportunity to reflect on public realm schemes I'd been lucky to work on and successfully deliver in my career – major urban regeneration at Masshouse Circus, Birmingham and Gateshead Quays. The final example though was Blackburn town Centre where Blackburn with Darwen Council set about an ambitious plan over a 10-year period for the public realm and town centre infrastructure. It was challenging, there was disruption and difficult discussions with stakeholders, multiple funding agencies and complex considerations, but ultimately significant investment in the town centre and its public realm paid off – in 2016 Blackburn was crowned best high street in Britain in the 'Great British High Street Awards'.
My final message to the audience was that they had to be brave, bold and ambitious, collaborative, engaging and consultative, and for them to build a team with the right skillsets to design and improve the public realm, spaces and streetscapes that will play a key role in achieving transformative change, creating places where people visit, come together and engage with each other and their community.
The Future
The launch of the fund also coincides with the publishing of "High streets and town centres in 2030" report by The Housing, Communities and Local Government Committee, that calls for urgent action to prevent some high streets and town centres disappearing entirely!
The Fund will operate as a two-round fund with two stages to the application process, first phase submissions are by 22 March 2019. Local Authorities must set out their challenges and strategic approach to regenerating town centres. Those selected for the second stage will then provide full business cases.
Whether it is enough to revive ailing town centres remains to be seen – let's see how the Call for Proposals develops, hopefully Local Authorities will submit strong and ambitious proposals for their high streets that are focussed on 'Place' with public realm at the heart of the vision for town centres that will create spaces and places that attract activity, people and investment.
To see what we're up to, take a look at our website or follow us on twitter.